Quick, easy and affordable ways to dish up tasty healthy meals... no matter how busy you are.
Lose the food-guilt and discover how to get more NOURISHING food on the table - every single day.
and I've helped almost 2,000 women quit procrastinating and start improving the health of their family through the food they eat.
Here - let me tell you what I mean…
Let's face it, as women we're constantly being pulled in all directions.
We live in a time of mass information, mass guilt and mass overwhelm - especially around food.
'Busy Mum' is a thing. We don't know how to do it any other way.
Yet, we are facing a dilemma.
In amongst all this busy-ness - we've noticed a serious problem. We are waking up to the fact that the food we are consuming from supermarkets, tuckshops, food courts, petrol stations and fast food outlets - is often not REAL FOOD.
It's not food made from real ingredients and it's not doing our health, or the health of our children, any favours.
Scrolling through Instagram and Facebook we think everyone else is doing the 'healthy eating' thing so much better than us. Don't stress! They're not. They are human just like us and have the same number of hours in their day.
I know, to start ditching the processed food … well, it feels like something extra to do in an already jam-packed timetable.
You might find yourself thinking:

"It's just too hard", and who's got the time?
"It's too big a mountain to climb". I don't know where to begin?
"I've got the recipe books, so I'm halfway there, right?"
Or perhaps "I've joined a stack of healthy FB groups so know what I should do".
BUT THEN WE DON'T DO IT! That meaningful change that we crave just doesn't happen on its own.
We keep buying the foods we know aren't great. We keep putting off trying new foods out of fear of #foodrejection from our kids (yep, it's a thing too!). And we feel stuck in that weird paradigm.
I know it, I was there too.
There are good reasons why you're feeling stuck (and they have nothing to do with you being a failure). There's also a pretty awesome solution too.
More on that in a minute. But first, let me share something…
In 2010 when I had my first child a light bulb went off when I realised that I didn't know what 'healthy' was. Here was this perfect little boy and I so desperately wanted to nourish him properly.
An academic at heart, I went back to study. I studied at the Institute for Integrative Nutrition and after a year I was a certified 'health coach'.
But in truth, I was just really confused!
I was exposed to 100 different dietary theories. ONE HUNDRED! All of these diets could prove 'with science' that theirs was the most effective way to eat. Paleo, Atkins, low-carb, raw, South Beach, vegan, vegetarian ... the list goes on.
It was overwhelming and made me a little crazy.
I just wanted to know what the heck to feed my family!
I went back to basics and decided to eat real food or 'wholefoods'. I started avoiding things that had an extensive ingredient list or came in a box as much as humanly possible.
It was hard at first, and my husband, Nick, was a little confused.
But over time I noticed some major changes:
I began to feel better. In fact, I felt great.
My kids - yes, I've now got three! - actually ate the food I made for them and often asked for seconds (as did Nick).
My grocery bills dropped way down (because of the great tricks I learned along the way).
It sounds so easy to just 'eat real food' – but even armed with all the info, it's still been a huge transition.
I mean, I can't forget that I know what a Snickers bar tastes like.
Or that the ultimate cure for a hangover was always a McChicken and Fries!
I can't pretend that 'lunch' didn't mean a vegemite sandwich for about 30 years of my life.
I can't possibly expect myself to change everything I knew about food overnight.
And I don't expect you to either.
I honestly believe that everything changed when I began taking small steps towards the bigger picture. I worked on shifting the way I thought about food.
And it worked.
Now, most of the time my family are now eating foods made from real, whole ingredients.
And I love helping other people do the same. One step at a time.
It's why I've created Small Steps to Wholefoods.
But here's the caveat: I don't do guilt. I don't do perfection. I don't do big sweeping unsustainable changes overnight.
My space is about keeping it real. And when you enter, you become part of a growing movement of women saying NO to fads and restriction and YES to celebrating all the small steps towards improving the food we eat.

Want to know what a Small Stepper is? (And if you're one too??) It's a woman who:
Holds a deep desire to improve the quality of the food she eats
Feels BEYOND confused about what 'healthy' means and is seeking a balanced point of view and access to experts all in one spot. She needs it to be simple.
Has tried a dozen different 'diets' but still doesn't have a healthy relationship with food. She might even carry a bit of extra weight (and perhaps a touch of self-loathing). *hug*
Owns a TRILLION cookbooks and follows a stack of healthy Facebook pages - but fails to put what she sees and reads into practice.
As a mother she might carry around a little guilt around about the food her kids are eating. She knows it's got to improve, but feels worn down trying new things in the kitchen that sit uneaten on her kids' plates. 
Might be dealing with a health issue in her family and has no idea how to start making the necessary dietary changes.
How many of those sound like you? The Small Steps community understands that change takes time (especially if kids are involved). You want support and inspiration? It's all here. Small Steppers are a special breed: they have knowledge, they take their time and make changes that stick.
A life without food guilt? (Yes, it's possible!)
Feeding your family delicious, nutritious wholesome foods, instead of processed junk that can trigger allergic reactions or cause tantrums and meltdowns?
The feeling of ease in your life as things get simplified and food becomes enjoyable again?
Knowing how to incorporate more real food into your meals (and even looking forward to those meals!)?
Experimenting with new ingredients without breaking the bank or spending hours and hours in the kitchen?
Being inspired by the most experienced and insightful wholefood and wellness experts?
Learning how to incorporate a simple yoga move, a simple exercise and a simple mindfulness movement into your day to enhance your wellbeing?
Receiving an OVERLOAD of guidance, inspiration and encouragement to help you on your way as you make real, lasting changes for your family?
Small Steps to Wholefoods is the eight-week online program that will change the way you see food and the meals you serve to your family.
Everything above is totally possible lady!
What people are saying...
The program is broken down into fortnightly modules. each fortnight we cover a different meal.
A daily short, inspiring video from me to keep you on track.
5 simple ideas for 'real fooding' the meal of the week. Seriously - so easy!
5 how-to videos - showing you exactly how to make my favourite recipes . Crazy helpful!
5 expert interviews (watch the video, download the audio or read the transcript - do it your way).
Around 50 amazingly simple tried and tested recipe ideas.
ONE WEEK OF Implementation
Recipe + Shopping List to download and take to the shops so you can get started on my five favourite recipes straight away.
Body + Mind BONUS! Because health is always about more than just food. Your inbox will be filled with inspirational advice from a yoga teacher, a personal trainer and a mindfulness expert.
Experimentation plus your chance to ask questions or catch up on anything you've missed.
And of course, enjoying delicious, real, whole foods prepared easily in your home regularly!
And all the while you are being fully supported in a private FB group by myself and an amazing lady I just know you'll love!
Want to know a little more about the guest speakers? Here's a taster….
Amongst the twenty amazing interviews you'll find:
reveals simple pantry improvements you can make straight away
shares the five foods she MUST have in her fridge each week
talks allergies and intolerances - what you will learn about SNOT!! Lol!

delivers advice, wisdom and heart in an interview that I guarantee will leave you inspired beyond measure.
dissects breakfast: where we've gone wrong and how to make it right again.

shares stunning information about mindset (it's a game changer, this one!)
talks meat and eggs - all your questions are answered.

reveals her heartbreaking and uplifting journey of healing her ASD son though food
shares her journey with food and how she is a walking talking example of 'Food as Medicine'
introduces us to the importance of healthy fats in the diet
gives the low down on juices vs. smoothies
demystifies the psychology of food 
This is just a snapshot of the wealth of information, advice and inspiration that you'll be exposed to over the eight weeks.
How does THAT sound?
Are you ready to join hundreds of other Small Steppers on this journey?
We next kick off on Monday March 6, 2017!
Until registration closes!
Here's what people have said about Small Steps
"Small Steps enabled me to find balance and feel good about the food my family were eating. It is full of amazing resources and points you in whichever direction your food journey wants to go on. Loved it and will go back again and again."
"This course was a springboard for me to start our family's wholefoods journey and it changed our relationship with food. It's like the antidote to all the plots and trickery of the food industry. You'll never look at supermarket products the same way ever again."
"Small steps is an easy to follow and life changing program that introduces you to eating wholesome food."
If you want to change your reliance on processed food and go back to the real stuff - then jump on the Small Steps train. Almost two thousand women have now taken back control of the food they are eating, thanks to Small Steps.
It's eight weeks of working together for your future health. If not now - then WHEN!?
Here's a reminder of the seriously awesome, life-changing goodies you'll get in your small steps toolbox:
4 x jam-packed Information Weeks
4 x go slow Implementation Weeks
20 x Cooking Videos
20 x Guest Interviews
4 x Recipe and Shopping list PDFs
4 x Body and Mind Modules
Access to a private Facebook group with all your new BFFs
And with the help of some of Australia's top experts we tackle the big stuff:
Gut health
Food intolerances
The psychology of food
Food cravings
Additives and preservatives
Wholefood pantry staples
Hormones and food
Creating happy family meal times
Wholefood baking
Juices vs smoothies
Buying quality meat
Popular diets like Raw, Paleo and Low-Carb High-Fat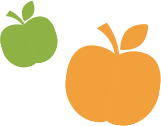 These 20 expert interviews alone are worth well over $1000. Paying to see each expert speak would cost you a fortune but if you sign up today, they're all included in the course. Best part, they come to YOU!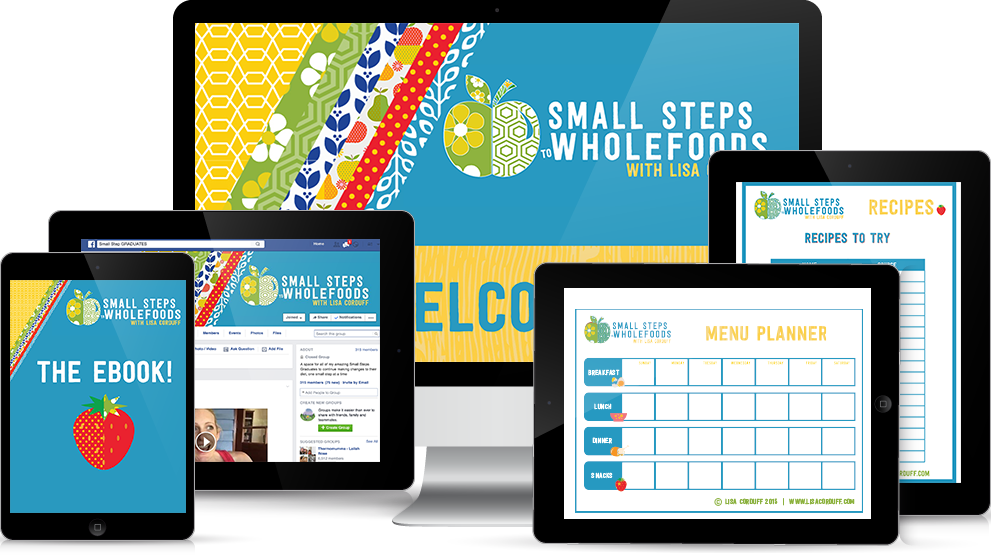 Small Steps Stationery to download and print out - yours for life! (Value $19.95)
A comprehensive eBook upon completion - with all the program notes and recipes in one spot. (Value $19.95)
That's over $1000 worth of expert advice + $40 of BONUS materials!
Remember - this is no fad or quick fix.
It's about learning and implementing and having your eyes opened to the importance that food has on overall health.
It's about small steps. If you have not found at least a week's worth of new wholefood meal ideas that your family WILL ENJOY then please get in touch and I will refund your money.
Next round kicks off March 6
"Lisa, you totally rock, I'm so thankful for all of the information that you have put together. This is such an amazing course - amazing value for money, I think it's the best one around. Real mums doing real good work for their families."
~ Sue
"I just finished the last 'food interview' with Jude tonight, and I'm really sad that the course has come to an end. You have been to me, what Jude clearly is to you. So thank-you from the bottom of my heart. Last week the fussiest of my three ate carrot and capsicum sticks, pesto pasta and a green smoothie, and I did a happy dance across the kitchen. He looks pretty happy with his smoothie moustache too!"

~ Jamie
"Thanks Lisa, I have enjoyed all of small steps and have learnt a lot too. My whole family has benefited from this journey and it has also encouraged my fussy 14.5 year old to start her own path of healthy eating."

~ Sharon
Listen, I know what it's like to feel overwhelmed and guilty and stressed out about food.
I know what it's like to have my eyes opened to the scary reality that processed and packaged foods might be contributing to ailments within my family.
I know what it's like to continue buying the same stuff even though I know there must be better alternatives.
I know what it's like to want to change, but having no idea how or where to start.
You have the power to change your life and fall in love with the simplicity and JOY of wholefoods eating.
And this program will help you do just that.
I can't wait to see you in this round!
PS. My whole life my Dad taught me that everything was OK 'in moderation'. I rebelled against it (of course) but am finding more and more that he was right (except in the case of margarine - that stuff is NEVER OK!)
PS. "Nature has a way of correcting itself and coming back to balance" was another Dad fave. I believe this is the situation we have found ourselves in. We have gone so far off balance that the food we are eating is not actual food (yeah, I'm looking at you Twisties - what the heck are you!?!). As we wake up to this reality, we know we need to find our way back to a healthy balance.  Small Steps can help.
Can't wait to see you soon x
Join the next round kicking off march 6