Sometimes I like to mix things up.
This recipe was born because after having gastro (sorry TMI!) I thought I'd continue to rest my tummy and not put gluten back in the mix.
I also get a little bored with food. Often this backfires on me with three little people who don't appreciate changing things up as much as me! But this recipe was an all-out WINNER.
So I thought I'd share it. You won't regret trying it.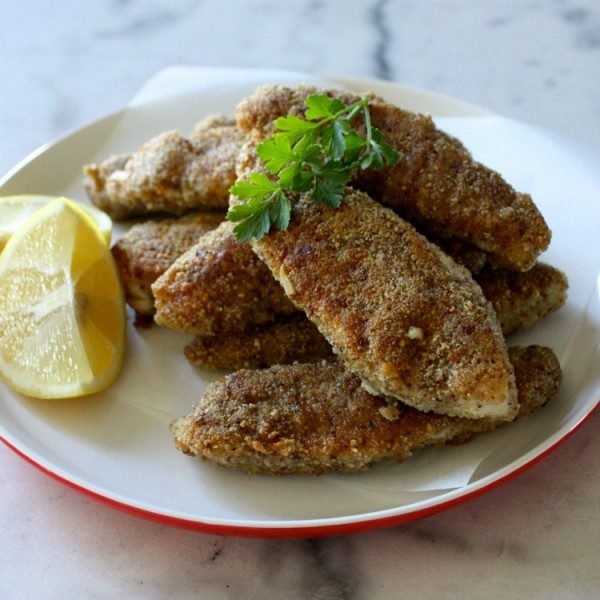 2

handful almonds

2

handfuls of pepitas

pumpkin seeds

Sprinkle of onion salt and garlic powder

(perhaps 1/4 tsp of each – more if you love flavour!)

4

chicken thighs or 2 chicken breasts

1

egg
2

handful almonds

2

handfuls of pepitas

pumpkin seeds

Sprinkle of onion salt and garlic powder

(perhaps 1/4 tsp of each – more if you love flavour!)

4

chicken thighs or 2 chicken breasts

1

egg
Whiz all ingredients up into a meal and place in a bowl.

Lightly whisk egg in a bowl.

Cut chicken thigh or fillets into tenderloins or small cubes.

Dip chicken in egg and then coat with the crumb.

Cook in olive oil or coconut oil in a pan on moderate heat. Enjoy it with homemade tomato sauce or perhaps a Honey Mustard Dip (1 tbls mayonnaise, 1 tsp dijon mustard, 1/2 tsp honey)
Reminders:
If you can't eat nuts replace with gluten-free bread crumbs
If you don't need gluten free this works beautifully with breadcrumbs (I like using up the ends of my loaves of sourdough bread)