I was roaming the streets of New York City looking for the 'perfect place' to have breakfast.
I just needed a damn coffee and some food, and to get out of the rain. So I gave up on the idea of finding my elusive perfect place, and walked into the first place I saw.
I was seated by a friendly waitress at the window. I was looking outside at the rain coming down and passers by under umbrellas in Greenwich Village. Paul McCartney was singing "Yesterday" on the stereo. Tears prickled my eyes for EVERYTHING that song meant to me in that moment. And I let out a long breath.
And then breathed in my perfect place.
It didn't match the picture I'd had in my mind (packed with older men, rather than dotted with uber cool hipsters) - but it was absolutely perfect. That song, that moment, that view.
Could it be that my mind had been so rigid in what I thought I wanted and needed, that I'd almost missed a chance to experience what was actually meant for me? And that all I had to do was give up the idea of 'perfection' in order to land in it?
What had I REALLY been searching for anyway?
I think it was comfort and connection. A place that welcomed me in.
As I sat there, I realised that this feeling isn't situational. It isn't a physical space thing. You can't manufacture connection, even if you do manage to find a space where your clothes sort of fit the vibe, or that has the ambience you like best.
The thing that ultimately gave me what I needed, that brought me to a place of contentment - was opening up to a feeling of trust and knowing and comfort within MYSELF.
And this brought up thoughts of all the other areas of my life in which I rigidly hold on to ideas of who I am or how things should be. What else am I not seeing?
If I "think" I know where I should be going - in any aspect of my life - I end up stuck. I get frustrated. Every time.
When I allow myself to get caught up in all the things I "have" to be and do in any given moment, I'm failing to see the bigger picture.
It's like going on a journey, and refusing to look up from the map. So focused on taking the "right" path that you completely miss the view.
There's always a bigger picture waiting to be revealed, a sense of belonging and purpose that nobody else can take away from you. Guaranteed. But only if we can let go of what we think we want, long enough to discover what we really need.
Are you trapped by rigid visions of perfection?
Do you feel weighed down by everyone's expectations - especially your own?
Are you looking to realign with who you really are, the person hiding underneath everything you think you "should" be? Or start creating a life based on how you want to live instead of how you think you SHOULD be living?
Join the wait list to find out how to take Small Steps Back to You….. coming very soon….
+ I'll send you my free guide straight away with three pieces of advice that changed my life (and will change yours too)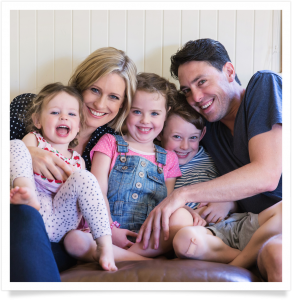 About Lisa Corduff
While Lisa Corduff is raising her three young children, she is also helping mums create lasting lifestyle change at Small Steps Living by keeping it REAL via her podcast, online TV, recipes, and blog. She has helped over 3,000 women ditch processed food through her signature Small Steps to Wholefoods online program and Small Steps Living Community.