In this post I share how I focussed on my happiness and wellbeing over 12 days this December as I find myself solo-parenting while my husband gets the care he needs for his health.
The final weeks of November were tumultuous. I felt drained by the goings on, I felt worried about doing December (and all that comes with it with three young kids!) on my own.
The solution I came to was focusing on my own happiness, wellbeing and a feeling of peace – as a priority. I get asked by women all the time how to feel happy. And my answer – just BE HAPPY – has them stumped.
So I'm taking you behind the scenes of my life to show you how I create happiness as a state of being. 
Day One – Mornings

Kicking off 12 Days of Happiness with how I kick off my days – seems about right!
Today it's all about mornings…
I love getting up before everyone else. I love the quiet, I'm definitely a morning person. And I've recently started two practices that are changing what I do with that time. I've usually always worked in the morning – and this year I have loved leaving the house early to go and work in a cafe while my husband does the morning with the kids and gets them to school. (Blisssssssss!)
Right now, that's not possible, so I focus on two things that set me up for an awesome day – self-hypnosis and yoga. The self-hypnosis app I'm using is Harmony and it's a game-changer. I learnt about it self-hypnosis from Jim Fortin way earlier in the year and I'm not sure why it took me so long to get started – it's so good!
The yoga is a practice that I started about a month ago and often it's a super quick and basic routine. (Or when I was congested it was a lot of rolling around on the top of my head!) Just put 'quick morning yoga' into youtube and you'll be done in 10-15 minutes.
I can work up to more, but right now it's important for me to establish the habit and I need it to feel achievable. I love it when the kids join me – Nick and I had been doing it together before he left. A beautiful thing to get up and do!
This means, from the start of my day I've done something for me, something that feels great, isn't hard and allows me to move through my morning with ease.
Notice how I didn't share strategies like having the kids lunch boxes out and putting their clothes out for the morning? That stuff just happens when you choose to be happy. It's probably fair to say you know exactly what to do, but you're not BEING the person who makes it happen.
How could you be happier in the morning? What would you end up doing differently?
If you'd like to join in 12 days of Happiness – just start thinking of what makes you happy each day!
Easy! X
Day Two – A Helping Hand
OK I gotta be honest here – I would never have predicted this topic in a Happiness Experiment. And here's why….
Asking for help makes me feel so uncomfortable. The most uncomfortable I can feel almost! I'm so much 'happier' (or so I thought) doing things on my own.
Nick and I lived away from family for ten years. I had all my kids without any family support. We grew stronger from this but it also created this kind of 'lone wolf' scenario. We literally didn't know how to parent any other way than on our own.
We relied on each other completely and with him working away from the house from 8am – 6pm – I did most of the child-raising, housework, actual work building a business etc on my own.
And I didn't do particularly well. I'm not a particularly able house-keeper. It's not my jam.
Here's why I found myself including this particular topic – because since I decided to double down on happiness throughout December while my husband is away – I've received help EVERY SINGLE DAY this week (ok, it's only Thursday, but still!)
Last night I hired a cleaner to come and do a spring clean (she said the house needed it!) and then to do a clean once a fortnight.
A friend offered to take my older kids to swimming on Monday night – I ACCEPTED (after procrastinating for 5 hours!)
Our next door neighbour had my four year old in for a play this morning so I could deliver a coaching call to clients – I reached out and asked for this! Who am I?!
My sister had us over for dinner on Tuesday night.
A friend came over last night and helped with my washing and tidied the kitchen while I dealt with an Airtasker who fixed our washing machine!
I asked my brother-in-law to take the kids for a sleepover on Saturday night because I'm going to a Day on the Green to celebrate my beautiful friend's 40th.
THIS IS NEW FOR ME! And it makes me happy – who would have thought!?
Call in the village. Call it in and feel supported.
And the BEST THING? Asking for a helping hand with life stuff means I can repay by giving a helping hand to you guys with #12daysofhappiness 🙌
Have you received a helping hand recently? Do you struggle to accept one?
Day Three  – The Kids
I used to think my kids MADE ME happy.
Or MADE ME frustrated.
Or MADE ME sad.
But the truth is – my kids don't MAKE ME anything.
There's things they do that can absolutely trigger the poop out of me and they can delight me and burst my heart wide open. But they can't MAKE this happen.
I am often all the feels when it comes to my kids. Those who have followed me for a while know I'm totally an #emomama. I can cry at the sign of a new tooth (no joke) and any time they are doing something brand new I am fighting to control the surge of emotions so I'm not a puddle on the floor!
But the notion that I might rely on my children to make me happy – it's a no go. Because if my internal state was always dependent on whether my children were in good form – I'd be all over the place. I mean … #threekids
I've really had to break up with the idea that I can only be happy if the people around me are. I used to bend over backwards to keep everyone happy but it's a losing game.
I mean – my kids aren't robots! They've got a whole load of life lessons and heartbreak in front of them. And that's OK. If I could protect them from it all, I probably wouldn't – it's what will grow them.
But I can't put my happiness on hold as they deal with their life lessons.
I've also needed to give myself permission to seek out and be committed to my own wellbeing whilst living with a family member who is moving through mental health challenges. That's how the #12daysofhappiness came about!
What if, even though all might not be well with our kids/partner, we still focused on feeling good ourselves? Not discounting their pain, absolutely offering compassion and love, but acknowledging that this is a very important journey they are going through for their own growth and it's OK for them to feel the way they do, it's also OK for you not to need to meet them there.
Easier said than done, right? (I get it!)
Or perhaps it's not that hard…
When we stop relying on other people to make us happy and just choose to BE happy – it's amazing what changes.
And hey – I'm not a robot – I don't exist in isolation. Of course people around me being in pain isn't easy to witness – but the most powerful place I can support them from is one of wellbeing in myself.
I hope this is making sense! I adore my children. They are legit the best people on the planet, but they have absolutely no responsibility to MAKE ME happy. That's my job.
And I can be happy, even when the chips are down for people around me.
So can you ❤️❤️
Day Four – Being Silly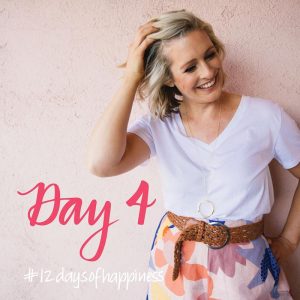 Life can feel so serious.
Feelings can be heavy.
One of the best ways I've found to feel happy is to be silly.
Just let loose.
Stop the thoughts about all that needs to be done and dance with the kids.
Our family can really laugh. The kids are getting so much funnier.
I have friends who get when I just need a laugh and distraction and we talk bullshit. Those same friends can also hold space for deep conversations.
But sometimes, it's time to be light and silly and funny.
Don't you reckon?
❤️
PS went to a Day on the Green to see John Farnham and Richard Marx 😂 so definitely got silly yesterday.
Day Five – Music
In my #12daysofhappiness I haven't gone a day without music.
It changes the mood in an instant. 
It's no secret I'm a crier and at the moment I am moving through a lot of emotions. But they can get stuck. I often get really stoic and kind of ignore what's bubbling up inside.
Music releases it all. I'm so grateful to music makers and poets for their work that unlocks the parts of me that I might be afraid to have surface.
Whether that be outrageous joy, laughter and silliness, all.the.tears of sadness, renewed hope, encouragement and inspiration. 
I always feel better after a big crying session, singing session and a big laughing session.
I'm getting better at letting myself be whatever I am and music is often a navigation tool to parts of me I didn't know needed expression.
My mate @karlosophies will be launching a podcast soon about expression through art so you should check that out. 
Right now I'm going to put Whispering Jack on really loud and dance around my house to relive the magic of A Day on the Green yesterday.
Best everrrrrrrrr! ❤️❤️
Day Six – Friends

I just don't know what to say here that won't see me end up a puddle on the floor (tears of happiness you guys!)
I have extraordinary friends in my life (and family that are like close friends too). 
I'm not sure how I've gathered this army of strong women over the years. But I'm bloody grateful for every single one of them.
And you know what I'm grateful for most in the past few weeks when things have been a bit crazy? I'm so grateful that my friends are comfortable and secure with my silence or withdrawal.
That my friends know I have a tendency to process things internally. And I resurface.
And I'm the luckiest woman alive that they are there for me when I do.
Far out – I don't know where I'd be without the warrior women that surround me.
They rise me.
They hold me.
They see me.
They accept me.
They love me.
And I have no words of thanks that are big enough.
I cannot begin to express how blessed I am on a measly old FB post. They know who they are.
But there's a new friend I've made recently who deserves special recognition.
She's so fucking wise. She knows what's best for me and communicates gently but with a nudge. She has the ability to calm me down and rev me up. She tells me I'm doing great, even if I feel like I'm failing. She see's the best and worst of me and she still shows up for me and my greatest good every damn day. She's a rockstar. I love her.
Gee it's great being friends with myself.
Day Seven – Alone Time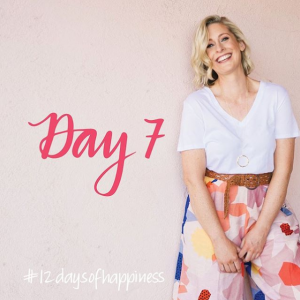 Oh this makes me so very happy! 
I used to think I needed to be around people to be happy. I'd cram in people time. Being alone felt like wasted time.
Now nothing could be further from the truth. 
Mum was around today because I'd finally asked her for some help (calling in the village, remember?) and as I worked and she walked past me she said "isn't the silence the best??"
Yes mum – damn straight it is! 
In this #12daysofhappiness I've been getting less alone time than I normally would. Does it worry me? Nope! 
In fact I've decided to give the kids a day off tomorrow so we can have an adventure morning and a relaxing afternoon. 
I could send them to school but I reckon it's what we all need. I'll create my alone time with my morning self-hypnosis and yoga before they've roused.
I don't give myself a hard time for needing kid-free time. I've 100% accepted that I need it to feel happy and balanced. 
I'm getting so much better at sitting with myself too and not succumbing to distraction – but that is a huge work in progress.
For my happiness I know that alone time is a necessity. How about you? Do you want it? Do you get it?
PS huge shoutout to @loveinkcreative for these gorgeous images! How good is she?!
Day Eight – Work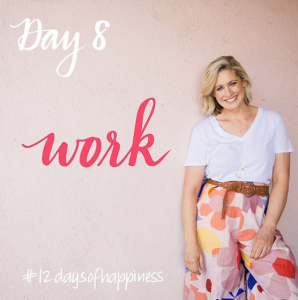 Would work make it onto your #12daysofhappiness list?
I consider myself beyond grateful for the work I get to do each day. I mean – it very rarely feels like work!
I get SO MUCH JOY from it.
Though I must say it's not all glamour shoots next to pink walls 🤣 there's definitely some aspects of the business that tire me out.
But on the whole I am energised by the work I'm doing. Examples in the last few days of how work has made me happy:
1️⃣ Launching the Breakthrough Mastermind and seeing applications roll in from amazing women all looking to take their business to the next level in 2019!
2️⃣ Today I invited Small Steps Members to join me in my daily 'morning yoga at home routine' and the response was amazing and happiness levels rise when I'm reminded how simple it can be to create change in someone's life.
3️⃣ Saying yes to working with the awesome @iamjimfortin in 2019 to continue growing myself and refining exactly how I can most help YOU!
4️⃣ Having busy days but all the flexibility as I got a call from school to pick up my son who wasn't feeling well. And I could bake a cake in the oven while recording videos and then head to my daughters kinder Christmas concert.
5️⃣ Running two coaching calls to help women with their marketing and online businesses (this really lights me up!!)
6️⃣ Receiving truly beautiful messages from people about how this 12 Days of Happiness is helping them see they have a choice in how they are feeling and it's making them think about what they can do to feel good – yessssssssss!!
I could go on. But it's clear – I love work. It wasn't always like this and I'm still a work in progress. But my work situation is being created very consciously.
The more works feels good, the better work I do. It's as simple as that.
Does your work make you happy? If not – what can you do about that in 2019?
PS I close off applications to the Breakthrough Mastermind on Sunday night if you're interested ❤️
Day Nine – My Space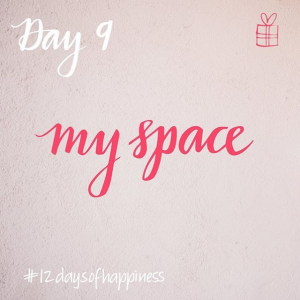 Today I was reminiscing with my sister about our second house in Brisbane.
She was saying how much she loved it – it was super bright and airy like any good Queenslander with lots of natural light.
We are in much smaller house in Melbourne – it's semi-detached so literally no natural light down one side of the house.
And I prefer it so much more. Sure, a bit more space would be nice, but the cosiness is what I love. .
And the character
Nick and I have lived in eight houses over the past thirteen years. We have never lived in a house we own.
I used to think that I didn't buy good furniture or things that matched because we were waiting to live in a house we owned.
Now I realise my highest values don't centre around the physical contents inside homes. Far from it. Furniture shopping gives me anxiety!
And it's because I don't have much aesthetic ability. Listen – I'm not being down on myself here – but as an almost 40 year old woman I gotta call it. I'm fine with it, it's not a strength and it's never going to be!
And this lack of attachment to physical things – it makes moving less stressful and doesn't anchor me to belongings that mean nothing except for the meaning we attach to them.
There are however things that matter in my space…..
My bedroom – it should feel like a haven
The kitchen – must be cleaned every night ready for the morning
My family – they matter for obvious reasons!
My energy – only I am responsible for the energy in which I fill a space and it is the thing that makes or breaks how I feel in my home.
So in this #12daysofhappiness I honour that I'm responsible for my happiness in my space – it's something I can change in an instant. And I honour that my lack of aesthetic ability hasn't held me back from creating a space jam-packed with love.
What matters in your space?
Day Ten – My Body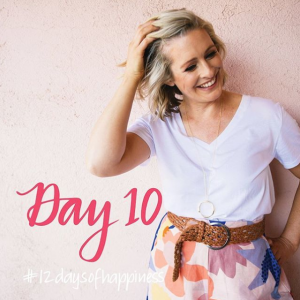 This weekend I've done a juice cleanse. It's Sunday night and I'm feeling great. I couldn't even drink all the juices so I'll continue on tomorrow
I didn't do it to lose weight.
To get a beach body.
To feel better in my jeans.
I did it because it's busier than usual and I wanted to give my beautiful body the best chance of staying well this festive season.
There's a million ways I could have done it – this just felt like a fun thing to do.
I don't own scales, me weight goes up and down, but I very rarely get worked up about it.
I just have way too many other things to do!!
But keeping this bag of skin healthy makes me more vital, I have more energy to do cool things and I can bring energy to those around me.
My body allows me to do all sorts of stuff and I'm GRATEFUL. I mean, I really dig it. I am so lucky. And I don't plan on spending this lifetime obsessing about what it looks like.
I'm way more obsessed in honouring it.
Let's be real, I often take it for granted, but I reckon one of the best things about getting older is recognising the things that don't make you feel good and stopping doing them. Anyone else want to high five their body? Does yours bring you happiness? I hope so!
Day Eleven – Forgiveness
I fuck up all the time. I swear a lot too but I usually try to tame it here 😂
I don't know how to survive as a mother in this modern world with its information overload if I didn't give myself a huge forgiveness injection on the daily.
I definitely wouldn't survive as a business owner if I didn't have forgiveness as a core strategy. I mean nothing happens if you don't take risks and get vulnerable and sometimes that leads to monumental fuck ups.
I gotta say – forgiving myself ALLOWS happiness. Letting shit go is what keeps me moving forward otherwise I'd be bogged down in my own bullshit all the time.
Elsa was so freaking right.
What can you forgive yourself for, make peace with and move the fuck on from RIGHT NOW?
Argh! I think I'm ranty about this topic because I see so many women down on themselves for stuff that doesn't matter. Or holding onto things they did in the past and can never change.
You're wasting your life flogging yourself. With a whip. Ouch! You can choose to put that whip down sweets. You really can. Get help in any form to help you let go and forgive and start being really kind to yourself.
Otherwise it'll eat you up forever.
PS I really don't apologise for the swearing. I am a complete potty mouth and sometimes you're gonna year it come out when I'm passionate about something – pink wall pic or not!!
Are you good at forgiving yourself? ❤️❤️❤️
Day Twelve – Peace
And isn't this why I kicked off 12 Days of Happiness in the first place?!
Listen, I'm no yogi and I certainly don't live in a constant state of bliss – but I've been practicing peace.
Literally practising what feeling peaceful might mean.
And here's what I've come up with….
When Nick left for his month away I felt a bit panicked and I felt sad. I have let myself feel the sadness when it's cropped up but the panic I've done without.
Because I keep reminding myself everything is fine.
I keep telling myself everything will get done. And working from that place instead of freaking out entirely and telling myself there's no way everything will get done – well, everything is getting done.
This year I've learnt that everything in my external world is reflecting me. And that everything that doesn't feel awesome is helping me.
There's lessons in every nook and cranny of your unhappiness. And really, you might only be unhappy because you expect things to be different to what they are.
What if you accepted where things were at? Doesn't mean you don't want to change things up. But just be here, right now, and be cool.
Be peace.
It's the funnest experiment. Stop telling yourself it should be another way. Stop rehashing all the things that happened that you can't change.
Be in a place of peace with it all.
Could you have a try?
It's a work in progress for me. But it's a wonderful journey I'm so glad to be on.
I'm glad I know that peace is my choice. I'm glad I know that life is choice.
I'll keep choosing peace as often as I can. Even when shit is hitting the fan. ESPECIALLY when shit is hitting the fan.
A month ago shit was flying everywhere and I did what I needed to to be as peaceful as I could. To me this looked like honouring how I was feeling, being with that feeling for as long as I needed to, not rushing out the other side like I usually would and reminding myself everything was ok in that moment. .
It wasn't easy but out I came with 12 days of happiness to share….
Wouldn't have been possible without work that I've been doing on myself for the past two years and deep dived into this year.
Small Steps to Peace ✌❤